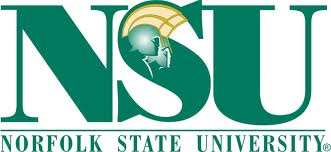 About Norfolk State University
Norfolk State University (NSU) is a four-year, state-supported, coed, liberal arts, historically black university located in Norfolk, Virginia. The University is a member-school of Thurgood Marshall College Fund and the Virginia High-Tech Partnership.
The institution was founded in 1935 as the Norfolk Unit of Virginia Union University (VUU). Eighty-five students attended the first classes held in 1935. Mr. Samuel Fischer Scott, an alumnus of Virginia Union and Portsmouth native, served as the first director with the primary focus of maintaining the solvency of the school. Dr. Lyman Beecher Brooks, a Virginia Union alumnus, succeeded Mr. Scott as director in 1938, and served as provost, 1963–1969, and the first president 1969-1975.
In 1942, the school became independent of VUU and was named Norfolk Polytechnic College. Within two years, by an act of the Virginia Legislature, it became a part of Virginia State College (now Virginia State University). By 1950, the 15th anniversary of the College founding, the faculty had grown to fifty and the student enrollment to 1,018. In 1952, the College's athletic teams adopted the "Spartan" name and identity.
The City of Norfolk provided a permanent site for the college on Corprew Avenue, and in 1955 Brown Hall, formerly Tidewater Hall, opened as the first permanent building on the new campus. In 1956 Norfolk State College granted its first bachelor's degrees.
In 1969, the college divided from Virginia State College and was named Norfolk State College. The College was issued accreditation from the Southern Association of Colleges and Schools the same year with an enrollment of 5,400 students. In 1975 and the year following, the first Master's degrees were awarded in Communications and Social Work, respectively. Dr. Harrison Benjamin Wilson, Jr., in 1975, succeeded Dr. Lyman Beecher Brooks as President after 37 years.
When the college was granted university status in 1979 by the General Assembly of Virginia, it changed its name to Norfolk State University.
Norfolk State University celebrated its 50th anniversary in 1985 with a year of observances and with an enrollment of 7,200. In 1995 Norfolk State University's enrollment reached 9,112.
Upon the retirement of Dr. Harrison Benjamin Wilson in 1997, Dr. Marie Valentine McDemmond, became NSU's third President in 1997 and served until her retirement. Dr. Carolyn Winstead Meyers was selected as the fourth President and began service on July 1, 2006. Dr. Tony Atwater was announced as the new president in 2011.
Visit Norfolk State University Website